In July 2016, UrbanBuilt completed an 8-home renovation project located on the 2300 block of Callow Avenue in Baltimore city. The project was the final phase of the Neighborhood Stabilization Program (NSP2). NSP2 was a program run by the Department of Housing and Urban Development in which a grant was awarded to the non-profit lending organization, Healthy Neighborhoods, in partnership with Druid Heights Community Development Corporation, a non-profit community association and developer. The program focused on restoring homes that were foreclosed or abandoned in Baltimore and offering them to residents at an affordable price. Not only is this UrbanBuilt's biggest project to date, but it is also an extremely important project for Baltimore in its quest for rehabilitation.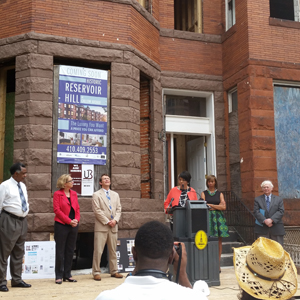 The project featured eight homes that were blighted and uninhabitable, each with nearly 3,500 square feet of living space. Wood windows with Baltimore bullnose trim, Hardiplank siding, restored brick fronts, wood cornices and solid wood doors were some of the exterior features included to meet CHAP historical guidelines. Each house received energy efficient windows and doors, LED lighting, open cell foam insulation and high efficiency heating and cooling units to meet stringent Energy Star guidelines.
On July 21st, 2015, the City of Baltimore held a dedication ceremony attended by representatives from the Druid Heights Community Development Corporation, Healthy Neighborhoods, UrbanBuilt, Department of HUD, State department of Housing, Mayor Stephanie Rawlings Blake, and local residents. All expressed excitement about this project, which is only the start of the rehabilitation process in this vulnerable neighborhood.