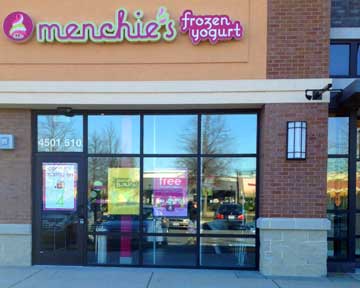 Jodie Brendlinger, owner of Menchie's White Oak Village-Richmond, VA, wrote an amazing review about her experience working with UrbanBuilt.  She worked first hand with Jason Watts, Managing Partner of Sales & Operations, as well as Adam Pillsbury, Managing Partner-Richmond Division.  Read her full review below:
"UrbanBuilt came highly recommended to us by another Menchie's franchisee over a year ago. Throughout our search for real estate, Jason was kind enough to give us his expert opinion on a variety of issues with a site we ultimately turned down, even though we were not a client at the time. His ability to communicate clearly and in a timely manner was appreciated, and his patience with us as we moved through the process was unwavering. When we did find an excellent site for our Menchie's, Jason was the first GC we called.  Adam Pillsbury kindly looked at the cold, grey shell, and he and Jason gave us some very rough estimates to think about.
You never get a second chance to make a first impression.  When I met with Adam and Jason for our GC walk through during the bid process, I was immediately comfortable with their knowledge, experience, and confidence in their ability to complete our build out on time and within budget. I was also struck by their professionalism.
While we had a few unexpected issues crop up during the delivery of our used equipment package and build out, Adam was thorough, calm, and professional every step of the way. Even the day before Thanksgiving, when both of our walk-ins were not functioning, he told me he would handle everything, and he was true to his word.
 I was extremely apprehensive about the construction in general; however, it has been a pleasure to work with UrbanBuilt on this project. They have an understanding of Menchie's needs, and numerous Menchie's projects completed. I feel very well taken care of, and would urge anyone looking for a top notch contractor to engage UrbanBuilt for their building needs.
We are planning on building 2 more Menchie's and look forward to working with UrbanBuilt again in the future."–Jodie Brendlinger, owner-Menchie's White Oak Village, Richmond, VA