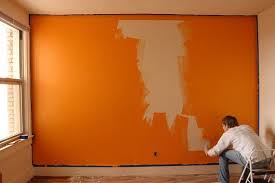 Interior painting is one of the cheapest ways to completely transform the look of any room. Painting may seem very straight forward, but the littlest mistake could erupt into a more expensive and stressful project. Here are a few tips & secrets to help you out on your next interior painting project.
Prep the walls you are going to paint. This means that you should spackle any holes or cracks, sand down any imperfections, and wipe down & dust the surfaces before you start painting. Paint won't cover up these flaws, so it is important to make sure the walls are perfect before you start painting.
Mixing cans of paint of the same color will allow for color consistency. Cans of the same color from the same store can sometimes be a shade or two off, so mixing cans of the same color into a large bucket ensures consistency throughout the room.
Wrap paint brushes instead of cleaning them when taking short breaks. Cleaning paint brushes that you are going to use again soon is a hassle and can be avoided by wrapping rollers/paint brushes in plastic wrap and placing them in the refrigerator. This is a little known tip that can save you valuable time, but should only be used if you plan to use the brush/roller in the next 3 days or less.
Invest in fabric drop cloths instead of plastic. A good cotton drop cloth will last a life time and will save you a lot of stress throughout your painting project. Not only are cotton drop cloths easier to lay down, but they aren't as slippery and the paint doesn't stay wet like on a plastic drop cloth.
Save time by using an edger instead of painter's tape. Taking your time and using an edger instead of painter's tape can save a lot stress and even some money. You only have to buy an edger once!
We recommend using these tips to avoid any unnecessary errors on your next interior painting plan. Be sure to follow our Facebook page to keep up with future Tuesday's Tool Box Tips and other UrbanBuilt updates.