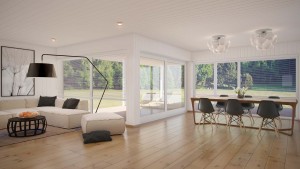 Having large rooms in a house isn't always an option, but there are ways that you can make any room look bigger than it actually is. Here are a few tips to make any area in the home appear roomy and optimize the space available.
Let in natural light when possible. This allows for the room to connect with the outside world and gives the room a much more spacious feel. Large windows can make a room look more open and give it an almost limitless like feel.
Use mirrors in strategic ways to add depth to a room. Mirrors not only reflect light, which adds onto the previous point, but they also add a ton of depth to a room. Adding mirrors into a room tricks the eye into thinking that there is more space available while also making it look less cluttered.
Bright/light paint colors can make a world of difference. Small rooms can be completely transformed by changing the paint into a lighter or brighter color. Lighter colors reflect light better and really optimize the look of a room.
Maximize your space by getting rid of unnecessary clutter. The more organized a room is, the more space available for furniture or activities. Using creative storage options can help eliminate the amount of things laying around while also giving the area more open space.
Wall-mounted TV's save space for other furniture. Mounting a TV onto the wall is a smart option that removes the need for a piece of furniture for the TV to sit on. This can allows for more room to have other furniture, or just create more open space for activities.
With these tips, some planning and some reorganizing you can help make a 1,000 square foot apartment look almost double the size without much effort! To see all of UrbanBuilt's updates make sure to follow us on Facebook and feel free to give us any suggestions of home improvement tips that you want to hear.